---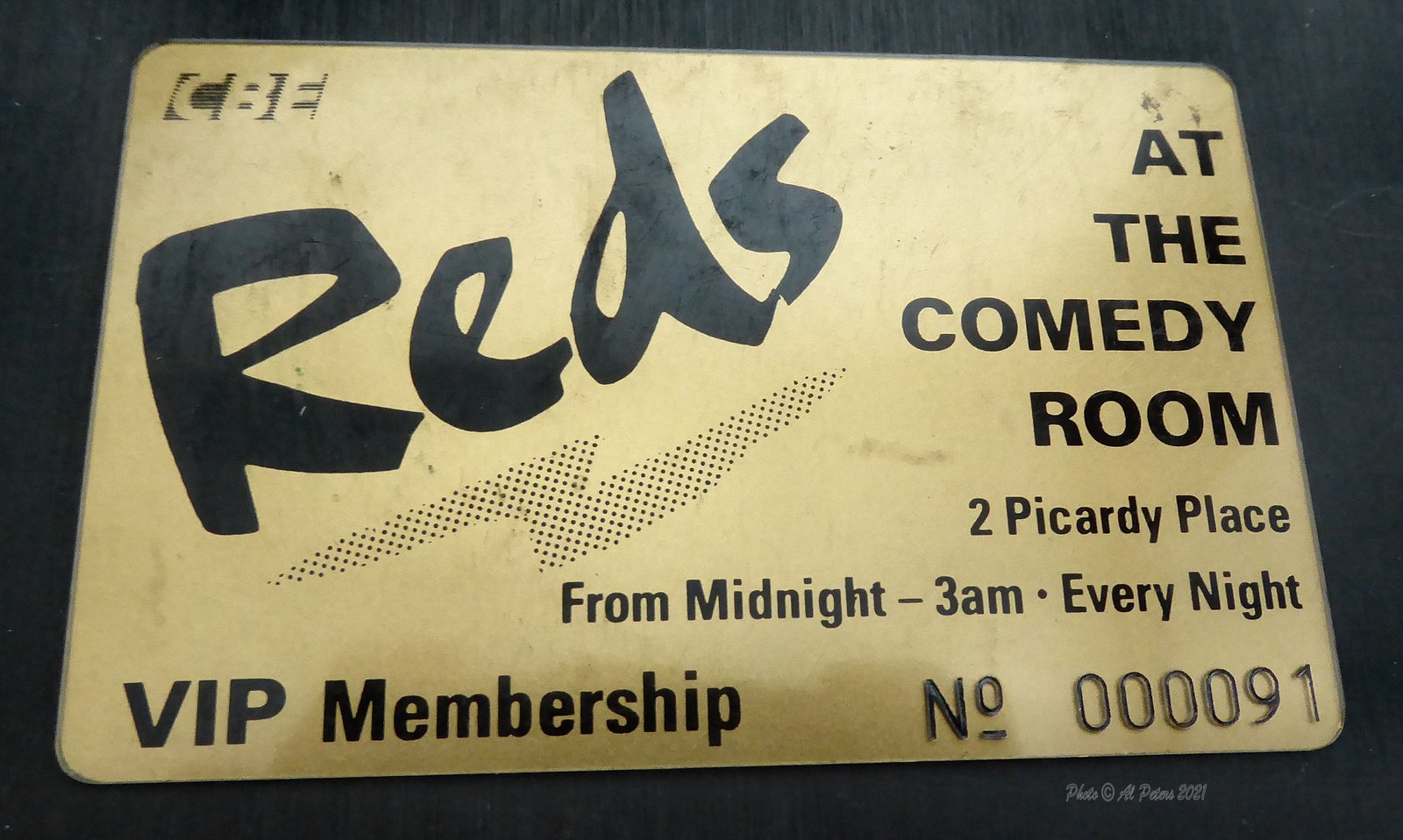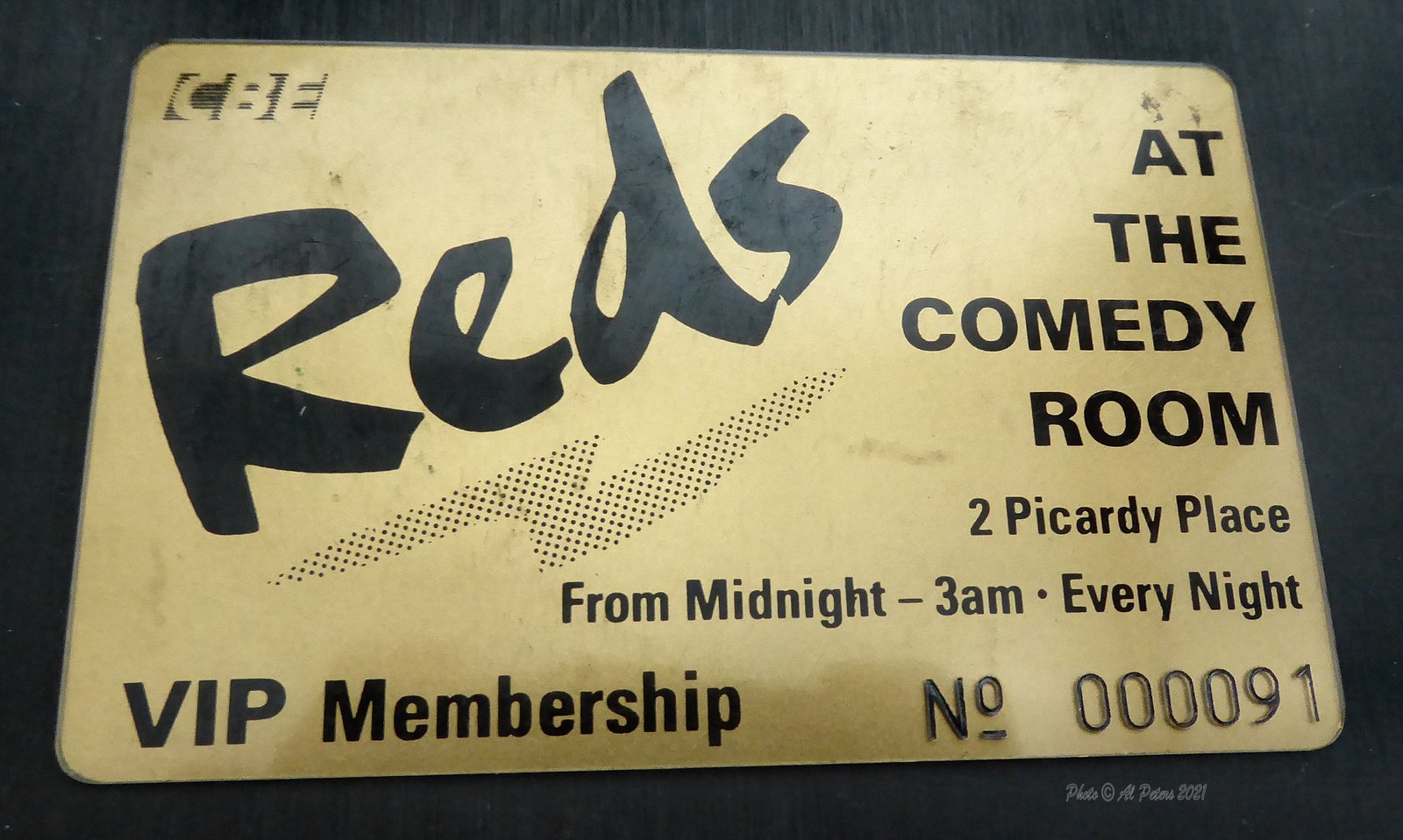 CBE = Carol Benjamin Enterprises - It was at Reds bar that Carol introduced us to a young dark curly haired comedian named Steve Cougan long before he became Alan Partridge.
During one of the many Lawnmower performances a light blue suited Julian Cleary leapt on stage and sang a rockin' good version of Chuck Berry's Johnny B Good.........
---
The Scotsman - Edinburgh Festival - Reds Bar
'Let the Good Times Roll with The Lawnmower'.
IN A RUN-DOWN CELLAR at the top of Leith Walk,
five musicians are rocking fit to burst both lungs!
The Lawnmower are a Liverpool based rhythm and blues band built in the same classic
Chicago mould as John Belushi's Blues Brothers...
This gutsy Merseyside combo comprises vocals, trumpet, tenor sax, guitar, bass, drums
and harmonica. It switches styles without blinking, from up-tempo rock and roll via swing,
to downbeat 12-bar blues and groovin' funk and soul.
Big Joe Turner's Shake Rattle & Roll and Robert Johnson's Sweet Home Chicago
sit comfortably besides The Lawnmower's own in house compositions Lawnmower Man, DJ Blues and Give Me a Brandy. Tracks taken from their CD - 'Rockin' Rhythm & Blues' (Groove 01)
This is music that grooves, hard and strong enough to make you get up and dance again and again. It's nearer to Hamburg 1960 than Edinburgh 1990's and all the better for it!
Jools Holland and various members of his R&B Orchestra who were checkin' out Reds on the night, spontaneously applauded!
Can blue men sing the whites? On this evidence, at least, they most certainly can.
This Rhythm and Blues, Rock and Soul night out was a good time to remember
for a long time to come.
William Cook THE SCOTSMAN
---

Blueprint - National Blues Magazine
Al Peterson's Liverpool band have put together this all original 12 track CD...
Opener "Lawnmower Man" has a solid marching bass line and good breaks by both piano and harp. Next, the first of the trilogy "D J Blues" is a slow blues with some tasty guitar and soulful sax. "Give Me A Brandy" is an uptempo slab of classic R 'n' B complete with honking horns. Perhaps the best two tracks follow, "Call The Doctor" is a mid-paced chugger, whilst "The Train" is a classic rolling train song with some really good harp and guitar. The second of the trilogy, "Father's Father" is an anti-war song dedicated to John Lennon. There's a well constructed instrumental "Groovin' With Mr N" and the CD closes with a real rocker "Shake Your Hands With The Devil", some mean slide guitar here.
This band is instrumentally strong with tasteful and telling solos from all and the vocals are good too. The original material stands up well and the overall feel is New Orleans R 'n' B with a slightly jazzy edge.
This is quality R 'n' B though and not the frenzied, thrash-along stuff purveyed by some bands. This is a good CD which I really enjoyed and it gets a recommended sticker!
R Jim Greaves BLUEPRINT
---
Blues Webzine
Performance: * * * *
Audio: * * * *
With a pedigree which includes Simply Red's Mick Hucknall, the signs were promising from the start. Here is Rhythm 'n' Blues I can relate to.
The Lawnmower , as they call themselves, will be a welcome addition to the collection of any fan of Bo Diddley, Junior Walker, The Yardbirds and that cross-over area between The Blues Brothers and Paul Jones's Blues Band.
Although mostly based on a strong 12-bar, the songs are all driven along by a solid rhythm section, punctuated by perfectly-timed stabs from the trumpet/sax combination. And talking of timing, the drumming is absolutely superb; flawless and interesting with it.
This is intelligent music. Not oppressively so - in fact, even the tracks which lie heavy with meaning are still taken at a pace. There is a 'blues trilogy', tracks 2, 7 and 9 (why not together...?) with an essentially peace-loving message.
These three, and especially "Babylon Blues", are dedicated to John Winston Lennon. I'm sure he would approve.
So "Rockin' Rhythm and Blues" is an accomplished piece of work, but is it enjoyable? Well, yes, it is. I would have preferred a rather more growling or husky vocal but the light vocal style suits the jaunty swing of the album - about half the tracks are phrased in triples - and I would have liked some better sleeve notes to show who is doing what, and when.
When Mick Hucknall started as lead singer with this band he must have known they were a promising bunch. It must have been quite a wrench to leave them behind. Maybe now is the time for them to realise their potential. You have the disk details, don't let me stop you!
Graham Vine DREAM RADIO
---
The Lawnmower - Messin' with The Blues featuring
Adrian Henri & Craig Charles
The Lawnmower with Wordsmith Craig Charles
includes The John Peel Session Tracks
---
Liverpool Echo - The Lawnmower raising funds for the glass at Sefton Park Palm House Liverpool
---
---