Some of the Artists and Bands that Recorded and Rehearsed at SOS (Square One Studios )
July 1980 – March 1987
Accelerators, Action Transfer, Acuff Rose, Afraid of Mice, Andy Wilson, Arena, Atherton
Balcony, Better Frights, Bill Gordon, Bleep Culture, Box Records, Broadoak Ads, Blue Van, Brian Smith, Black
Carnival, Craig Charles, Carl Chase, Charlie Lansborough, Carl Eaton, Caswell, Cave Canem, Curly Music, Check,
Cherry Boys, Cook Da Books, Crew, Cross Section, Chinese Religion, Cloud Nine
Dalek I Love You, Dead or Alive, Dee & the Dots, Denise Jardine, Drills
Echo & the Bunnymen, Egyptians, Eric's Records, Ewart, Excomunicated
Fat Wallet Records (became Groovin' Records), Flock of Seagulls, Faith Moore, John Fairclough,
F B Percussion, Ferret,
Frantic Elevators, Force It, Formal Sigh, French Lessons, Front Room, Foreign Bodies, Finger Print File
Gazz & the Groovers, Gary Gannacliffe, Glass Animals, Genetic Grade, Geoff White, Gold Rush, Glass Torpedoes,
Grown Up Strange, Godot
Henchmen, High Five, High Tease, Hit Machine, Hoffman Stone
It's Immaterial, Icicle Works, Ian Brodie, Inevitable Records, Incomplete Reunion, Interns, IHM,
Karl Terry, Kashmir, K- Meson, Khartoum Foot, Kindergarden
Jayne Casey, John Seddon, Jump
Lawnmower, Love Ponies (Bill Nighy), Lee Brennan, Laylow Management, Lies All Lies, Love Fountains, Liverpool Harriers
Mick Hucknall, Madame, Mandrake, MI5, Mike Rodgers, Milton, Modern Eon, Mogodons, Motion Pictures, Movie, Max Rooks
Nervous Desire, Neuklon
Orchestral Manoeuvres, Outland Drop
Pale Fountains, Pete Fulwell, Pink Military, Papujack, Pieces of Glass, Pictures of Innocence,
Pollard, Ponderosa Glee Boys, Prance, Prentin, Protégé, Public Disgrace, Pure Fiction
Roger Eagle, Reverb Brothers, Radio Merseyside, Radio City, Rage, Rigby, Rob Jones, Room,
Robbie Pollard, RPM, Roger, Rooks, Rox Records, Rainhill Tape Specialists.
Savage Lucy, Screams, Sidewalk, Sinek, Skeleton Records, Skeptic, Slippers,
Smoking Beagles, Sparta Florida, Student Factor, Straight to the Point, Strangeways, Stringer,
Supercharge, Spiral Dance, Strogoff
Think of Winter, Tilt, Twisted Nerves, Tony Judge, Tradition, Treazon, Tunnel Users, Unit Q
Vain Hope, Vanilla Beserk, Vox Arcana, Virgin Dance, Visual Aids
Wah! Heat, Walter Mitty, Wharburton, Pike, Widow, Wind Up, Woods, Word
Zale Out, Zeebra, Zsigmond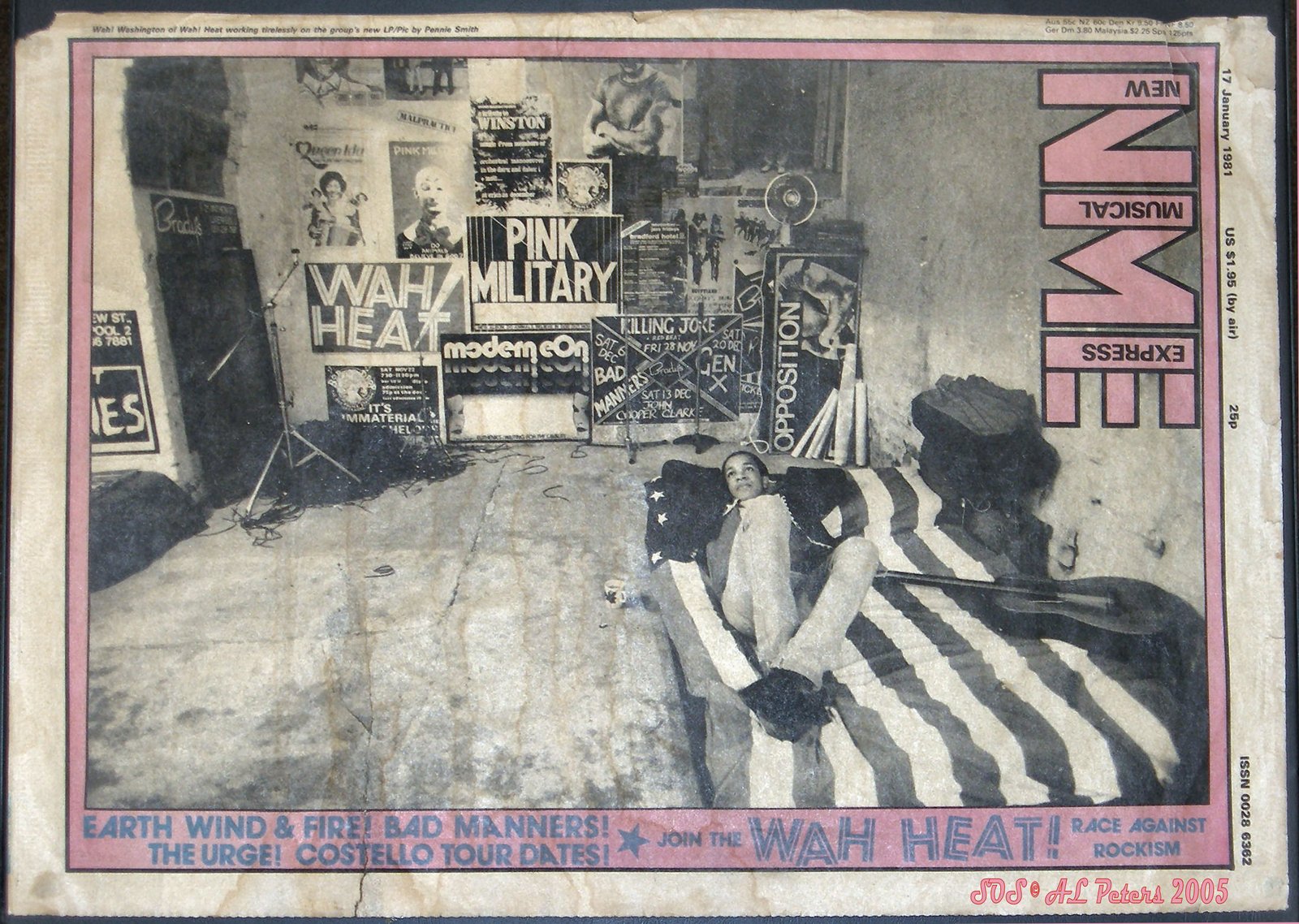 Square One Studios front cover of the NME 17th January 1981 with Washington the bassman of WAH! HEAT
Square One Studios (SOS) 11 Davies Street Liverpool (Available Recorded Works 1979 - 1987 ) Page 1 - Vinyl
Date
Artist
Tracks
7"
12"
1979
29th & Dearborn
Stealer/Put Your Love in Me
"
1980
Pink Industry
Is This the End, 47, Don't Let Go, Final Cry
1980
Roger Eagle (DJ)
Juke Box at Eric's
1980/81
WAH!
The Maverick Years: Side 1: Remember, Somesay, The Truth about Eddie, The Checkmate Syndrome, I Know there is Something
(Eternal)
Side 2: Shambeko, Sleep, Otherboys, What's Happening Here? Seven Minutes to Midnight, The Bible or Maths
1981
Frantic Elevators
Searchin' for the Only One/Hunchback of Notre Dame
"
1981
Front Room
Joe Public/Camera
"
1981
Faction
Side 1: Jamaica Day, Disney, Ritual, Faction, Far Away, Crazy People
"
(Nicky Hilton)
Side 2: Directive 59, Shanghi, Ritual 2, Burning Feet, Vienna, Tired of Love
"
1981
It's Immaterial
Imitate the Worm/The Worm Turns
"
1982
Cook the Books
Piggie in the Middle Eight/Gone to Black
1982
Cherry Boys
Kardomah Cafe/
"
1984
Dementia
Side 1: Easy Way Out, Fear, I'm Gonna
(Skysaw)
Side 2: Written in Blood, Embarkation, Basic Feeling, Back in the States
1985
Always the Now
From Dawn 'til Dusk/C'est La Vie
"
1985
Bamboo Fringe
Side 1: The Hands of Time, Turn on the Lights,
"
(Skysaw Records)
Side 2: Under Attack, All to Safe, Crazy People, Life & Times
"
1985
Gone to Earth
Side 1: Tippin' It Up to Nancy, Rose of York
(Probe Plus)
Side 2: John Ryan's Polka, Home by Bearma, Endbit
Folk in Hell: Rendezvous
1985
Merseysippi Jazz Band
Side 1: Oh, You California, The Whitewash Man, Get out and Get Under, Funky Butt, Muddy Water, Emporer Norton's Hunch
"
(Clinton Ford)
Side 2: My Cutey's Due at 2.22, Chicago Buzz, Mandy, Cornet Chop Suey, Eedilia, Once In a While
"
1986
Electric Morning
Side 2: Kalahari Rain, Reap What you Sow, Electric
"
(James Turner)
How Could We be Wrong, Crossing Over, The Heaven Inside
"
1986
Gerry Markey
Oh! John/St Joseph of Paradise Street
"
1987
The Lawnmower
Thin Man/Could Have!
"
" "
The Cat: Side1: The Cat, South American Cousin, Jumpin' High,The Boys are Back in Town
"
Side 2: Smokin' Joe, Cry, Cry, Cry, Hit the Road Jack.
"
1988
The Lawnmower
Messin' with the Blues: Side 1: Messin' with the Blues, Radio Active TV Man, Music is the Food of Love
"
Wasteland, In England and in Africa
"
Side 2: Thin Man, Got to Change, From the Loveless Motel, Got my Mojo Workin'
"

1982

2019

Carnival

From Strawberry Fields - Eyes Growing Wider/In the Heat of the Night recorded at SOS released on

12" vinyl Firestation Records Berlin Germany 2019 played and promoted by DJ Giles Peterson.
---
WAH! Pete recording The Maverick Years at SOS 1980

Pete Coleman Sound Engineer for The Maverick Years

joined forces with AL Peters to form SOS

Photo by Jef Barnes
Some of the Albums produced from Square One Studio Master Tapes
'Juke Box at Eric's' WAH! 'The Maverick Years' WAH! 'The Official Bootleg'
'Pink Industry' (Pink Military) Gone To Earth 'Folk in Hell' The Lawnmower 'The Cat'
Some of the 7" Singles recorded at Square One Studios
| | | | | | |
| --- | --- | --- | --- | --- | --- |
| | Frantic Elevators | Gerry Markey | Always the Now | The Lawnmower | The Cherry Boys |
Friends & Faces who Played & Worked @ SOS
Antonia de Sancha

Craig Charles & Phil checkin out

photos at SOS 1982

Nicola
The Reverb Brothers (Col & Jim)

The early years were always accompanied

by a Juke Box

Mike Score

A Flock of Seagulls were a

common sight around 1985 to 1987

Chumpki & Friend

( The Lawnmower backing singers 'The Lawndrettes' Angie & Lyn were the original dancin duo )
Paul Morgan

(SOS Sound Engineer)

Chumpki (Trainee Engineer) & Mike 'Noddy' Knowler

(SOS Sound Engineer)

Tex

(Trainee Studio Manager)
Mike Saunders & Adrian Henri

Workin on a late mix of 'Wasteland'.

"I sadly miss Adrian"

Frank Maudsley Relaxes

durin AFOS rehearsals. He became

The Lawnmower bassman for a while.

Wylie & Friends Relax

at the Everyman Bistro after

recordin 'The Maverick Years'
Craig Charles

Assemblin Studio Art

A Complete Flock of Seagulls

A rare sightin

Adrian Henri

Recordin Wasteland
Studio Boss AL Peters

Arrangin the Furniture

Occasionally seen in the Studio Office

Cookin the Books

Albie bein Albie

Durin Supercharge Rehearsals
Martin Dempsi & Geoff

Another late night session

John, Con & Henry at the Albert

on the night of John Lennon's Murder

The Icicle Works at St Georges Hall

to commemorate the life of Lennon.
Mathew Street Liverpool 09/12/1980

The Year that Square One Studios was

started by AL Peters & Pete Coleman

Father McKenzie, Eddie Porter & John Lennon's Uncle

St Georges Hall 1980

11 Davies St Liverpool

Just around the corner from Mathew Street

SOS (1980 - 1987) Crash Studios (1987 - To-date)
Roger Eagle at Square One Studios

Mastering Juke Box at Eric's

Photo by Francesco Mellina

The Boss - Studer A 80 1" 8 Track (SOS)

Studio Boss AL Peters

Photo by Jef Barnes
If you used Square One Studios and your name is not included
please let us know by contacting groovin.records@phonecoop.coop
© Groovin' Records/Mayday Music 2005
Return to Groovin' Records Home Page