in Aid of the Victims of Hurricane Katrina
at the Olympia Theatre, Liverpool, 11th October 2005.
This was a tremendous success promoted by Sam Leach and Operation Big Beat Promotions featuring over
25 acts including PJ Proby, The Merseybeats, Kingsize Taylor ft. Gaz Gaskell, The Undertakers,
The Clayton Squares, Juke Box Eddie's, Lee Cutis, Kappa, The Easy Beats, Don Woods,
Joey Shields and AL Willard Peterson etc.
© Photo by AL Peterson

AL & Joey after playin' some Down Home

Merseysippi Delta Blues at the Benefit

"It was great meetin' you and seein' you perform -

It really added to the night"-

Photo by AL Peterson

Kingsize Taylor and Gaz Gaskell

quote from Sam Leach legendary Liverpool promoter.
"New Orleans Musicians Benefit"
1st January 2006
An exceptionally successful night co-ordinated within the 'Sounds of the Sixties' thanks to
Gaz Gaskell and Kingsize Taylor. A capacity audience enjoyed the 'Down Home' feel of Cranston Clements, Joe Sunseri,
Kingsize Taylor, Sam Hardie and Geoff Nugent
soulfully backed by the
Merseyside Rhythm & Blues Volunteers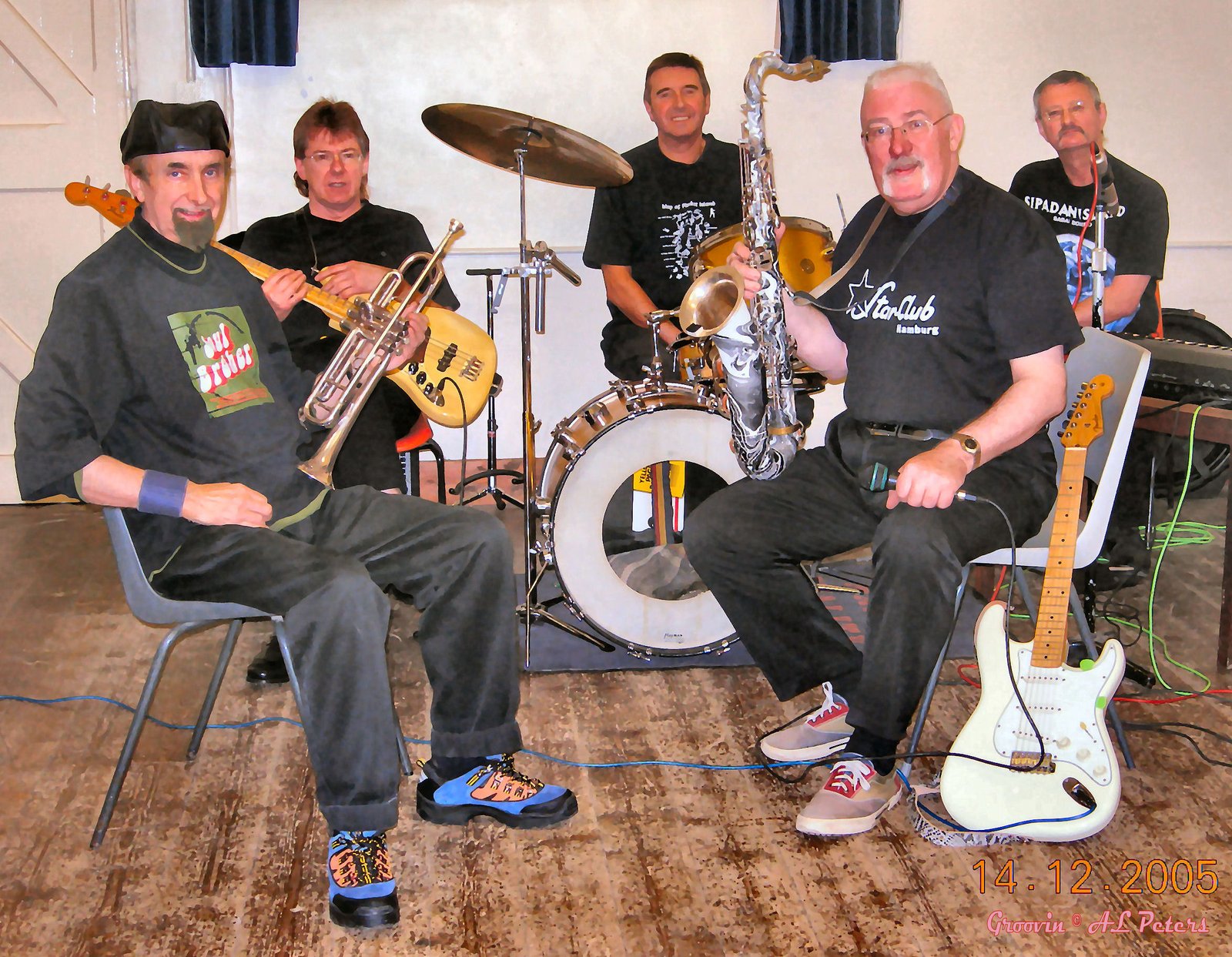 Led by the multi talented Gaz Gaskell (Tenor Sax, Guitar & Vocals)
Dave Lunt (Bass) Nick Arnott (Drums) and Tony Maher (Keyboards)
plus guest musicians from New Orleans includin the great
Joe Sunseri (Baritone Sax) and
Cranston Clements (Guitar)
AL Peters-on (Trumpet & Vocals) wholeheartedly added to this worthwhile cause to honour the contribution that the many New Orleans musicians have made to the formation of the world famous sound that is now recognised as Mersey Beat especially after the devastation left in the wake of Hurricane Katrina that has left many of the musicians destitute. Ignored by the wealthiest nation on earth?
Two 'Donor Buckets' were circulated durin an exuberant performance of the 'Saints' with all proceeds handed to Joe & Cranston to take back home to New Orleans. We must thank Spencer Leigh (Radio Merseyside), Joe Riley ( Liverpool Daily Post & Echo), and
Craig Manning (Wirral Globe) for their media support.
Check Out Gaz at www.GazGaskell.com
| | |
| --- | --- |
| Karl Terry & The Volunteers Photo by Jan Gaskell | Kingsize, Cranston, Gaz, Joe & AL |
The Cavern photo taken by a fan who said she had difficulty gettin a complete shot due to the microphones
and filmin goin on. I apologise for obscurin Joe's face with my trumpet.
See picture below of Joe in full flight on the night.
FROM NEW ORLEANS to THE CAVERN

JOE SUNSERI (Baritone Sax)

THE MUSICIAN'S MUSICIAN
· Performed with Beach Music legend, Big John Thompson, and Mighty Lester and the

Blues Kings. Recorded albums with MarleneMacDonald, Trevor Finlay and

Juno Award winner Drew Nelson.
Backed up Ben E. King on European tour.
· Performed in major Las Vegas, Reno and Lake Tahoe hotel orchestras, backing up Frank Sinatra, Cher, Shirley MacLaine, George Carlin, Helen Reddy, The Temptations,

Bobbie Gentry, Larry Storch, Doc Severinsen, George Burns, Tom Jones, Englebert Humperdink, Donna Summer, Joel Grey, Charro and others.
· Musical Director for Clarence "Gatemouth" Brown.

Toured Soviet Union (1979) performing 44 shows in 42 days. Won Grammy Award in 1983 for Best Traditional Blues Recording. Toured with other MCA artists including Roy Clark,

the Oak Ridge Boys and Barbara Mandrell.· Dick Stabile Orchestra, Blue Room -

Fairmont Hotel, New Orleans. Performed with Ginger Rogers, Tony Bennett, Nancy Wilson,

Abbie Lane, Billy Eckstine, Tessie O'Shea, Rita Moreno, Vic Damone, Mel Torme,

Eddie Harris, Louis Bellson, Brook Benton, The Pointer Sisters, Bonnie Raitt and many others .· John Fred & His Playboy Band, Sam the Sham & the Pharaohs.

Performed on the road and recorded with these two groups.

They have combined record sales of over 11,000,000 units.

FROM NEW ORLEANS to THE CAVERN

CRANSTON CLEMENTS (Guitar)

Another Musician's Musician, Guitarist Cranston Clements is a native New Orleanian, having played with many artists, including Dr. John,

Boz Scaggs, Maria Muldaur, IrmaThomas, The Neville Brothers, Johnny Adams, Marva Wright, The Dixie Cups, Snooks Eaglin, MightySam McClain, Harry Connick Jr. Ellis Marsalis, Eddie Bo, Ernie K-Doe, Allen Toussaint, Percy Sledge, Henry Butler, Wayne Cochran and the C.C. Riders, Oliver Morgan, Buddy Miles, Jaco Pastorius,

Hubert Sumlin, The Radiators, George Porter Jr. and

Joseph "Zigaboo" Modeliste

Cranston Clements one of New Orleans most versatile performers pictured here sound-checkin at the Liverpool Cavern for the

Mersey to the Mississippi Benefit.

There's only one way to describe these guy's CV's,

TRULY AWESOME!!!!!

and that truly summed up their performances on such a memorable night!
Also on the night was a special lip-smackin' Gumbo/Scouse treat served up in the
New Orleans tradition by QUYNNY'S QUISINE (Bold Street, Liverpool)
Ride Your Pony Down There ASAP!
'A Very Special Thanks to Quynny's Girls'
The Cavern Liverpool Sunday 30th April 2006
The Merseysippi Jazz Band help raise awareness!

The Rhythm & Blues Volunteers waitin to rehearse for the

New Orleans Benefit Night >>>>>>>>>>>>>>>>>>>>>>>>>>>>>>>>>>>>>>>>>>>

AL Peters, Dave Lunt, Gaz Gaskell, Nick Arnot, Tony Maher
---
DESITIVELY BONNAROO!!!
AL, Dr John (The Nite Tripper)& Blind AL

backstage at The Philharmonic Liverpool.

AL & The Nite Tripper share 'Dis Dat or D'Udda'

at the President's Expense!
Email Sent to Gaz Gaskell 06/05/06
I hope your gig went well at Jack Rabbit Slim's?
I'm still buzzin after meetin The Doctor!
Even though I've had a chest infection for the last two weeks that doesn't
seem to want to leave me and I missed a gig last night.
Besides playin 'The Right Place the Wrong Time' 'Walk on Gilded Splinters'
(the rhythmic interlude with The Nite Tripper playin some kinda shell was
magnetic spiritualism to say the least. I was on the Bayou, man!
The Doctor also explained how the artwork for 'The Right Place' (3 fold sleeve)

was taken from the walls of the artist's home in New Orleans.
The artist bein James Flournoy Holmes.
When I introduced 'Blind AL' to 'The Nite Tripper' he said "Hey Man!
Everyone's Got Somethin! We talked about New Orleans and he's hittin on
everyone he knows to raise awareness and funds. He has little time for the
authorities at present because of the slowness to repond and their apparent
apathy and the way big business is makin a land grab.
I wish you were there to meet the man.
The best shot is of the three of us 'AL, Dr John and Blind AL' so I'll be
postin that and the Merseysippi Jazz Band on the web asap.
I'm playin Llangollen this evenin with The Reverb Brothers so I'll be able
to explain to them why I just had to see Dr John 'The Nite Tripper'.
It was a spiritual experience for me, that 'New Orleans gumbo mix'

was a heady vibe man! My next portrait is goin to be Dr John.
All three other musicians had worked with Cranston and the guitarist was
very similar in style. With that Louisiana drawl and my left ear it was
difficult to make out their names although I know that the drummer's name
was Roscoe.
I'll be able to check them out on his 'Mercernary' CD that's out now.

His tribute to Johnny Mercer.

By the way Blind AL has donated £5 to the Musicians Clinic that I will
present at the next 'live' collection.

As Dr John wrote 'Keep On C*'

KtF
AL

THE NEW ORLEANS

MUSICIANS CLINIC

c/o The Foundation for the LSUHSC

PO Box 80578

Baton Rouge, La 70898

It is a not for profit fund under the

Foundation for the Louisiana State University Health Sciences Centre

Tax ID 72-1115391

The Nite Tripper Exits Stage Left

Even though there was a photo prohibition durin the performance I was able to sneak a shot when his Manager

turned to move towards the exit.
---
LEE DORSEY pictured here in the UK (Circa 1966) to promote his latest single 'Workin' In A Coalmine' that rose to No 8 in the UK & US Charts (An Allen Toussaint/ Marshall Sehorn Production).

After completing these UK excursions Lee would go back to work as a

panel beater in a car workshop in New Orleans in order to support his 11 children. How things have changed or have they for the 'workin non celeb musician' both in Louisiana and here on Merseyside?

Lee last toured the USA at the behest of The Clash in 1980 introducin' him to a far younger audience.

He died of emphysema (notorious coalminin' disease) in 1986

shortly before his 60th birthday.

The Volunteers plus their special guests Joe and Cranston played two of Lee's hits 'Get Out My Life Woman' and 'Ride Your Pony'

in their set at The Cavern.

Other facts:

AL Peters has all of Lee's Stateside 7" single UK releases and rates him as one of his favourite singers alongside Ray Charles and Muddy Waters

and durin the 1960's and 70's would eagerly await any news or releases of this very under-estimated New Orleanian talent. As Lee said 'Everthin' I Do Gonh Be Funky (From Now On)'.

LIVERPOOL/NEW ORLEANS FOOTNOTES

AL actually met LEE DORSEY after his show at the Cavern on Sunday 12th March 1967.

Lee was in the dressing room checkin' out his

startin' pistol for the song Ride Your Pony as it

had mis-fired durin' the show!

This number will be featured on the night but for health

and

safety reasons without the pistol.

Colin Areety (The 'Almost' Blues) released a cover version of

Holy Cow as a 7" single on the Deram in 1972.

If you have anythin' to add re photos etc contact
---
Win a copy of 'The Lawnmower Man

'A Dozen Choice Cuts'

By namin the venue pictured above that The Lawnmower

played recently for a very special 50th Birthday Celebration

To book AL 'THE BLUESMAN' or

Willard & the Poor Boys
Email: groovin.records@virgin.net


or Tel: 0845 458 0037

© Photo by Dave Evans

THE LAWNMOWER
The last line-up in 2007

Brian Preston (bass) Steve Doyle (drums)

AL Peterson (vocals, trumpet & harmonica)

Jimmy Bannister (guitar) Mike Nelson (sax)

Lee Brilleaux (The Feelgoods) & AL

at Manchester University at the start of

The Feelgood/Lawnmower UK Tour
AL "The Bluesman"
( AL Willard Peterson - acoustic guitar, harmonica and vocals)
The Bluesman & Son

© Artwork by Rob Jackson

Eddie Croft Blows

Photo AL Peters

Eddie has played Liverpool Town Hall with the Saturday Mornin Jazz Combo

for the delight of Yoko Ono and solo at the Miles Davis Art Exhibition

More recently seen blowin with various members of the jazz fraternity

throughout Merseyside.
AL 'The Bluesman'
described as 'one of Merseyside's authentic survivors" occassionally has his youngest son
Eddie Croft guestin'
on Tenor Saxophone. "Their work together covers numbers like Doxy, Blue Seven and Work Song.
A must for jazzy-blues lovers!
---
'Workin Class Hero' (John Lennon) 'King Biscuit Boy' (Sonny Boy Williamson) 'Blues Cry' (Billie Holiday)
'Lookin for Trouble' (Elvis Presley) 'Brother Ray' (Ray Charles) 'All Blues' (Miles Davis)
Signed A2 Fine Art prints of the above charcoals will be available soon.
ALL WORKS ARE UNDER COPYRIGHT CONTROL
AL's portraits are available as greetings cards for more information contact groovin.records@virgin.net.
---
AL's eldest son Adrian saw the struggle to 'keep the wolf from the door' (not Chester Arthur Burnett) by his father followin a 'passionate obsessional profession' playin the Blues. Therefore he chose a career in Art as an animation script writer and has recently won an award in Cannes for his work in collaboration with his workin partner Dave for their contribution to the advertisin profession.
Adrian at home in London
He is currently workin on projects for the BBC and CH4 as well as collaborations with Armando Iannucci .
Check out his work at www.mantlepies.com
---
Leonard Cohen & Tony Wilson

AL& Leonard Cohen at the

Richard Goodall Gallery Manchester

Conversation with Dr John Ashton
---
'The Forgotten Years' The Cavern 17th November 2006
Tony Bolland and Alan Lynch organised an event to showcase popular local Liverpool Rock Bands that have remained relatively unknown since the 1970's. This event showcased the launch of Tony Bolland's book 'Plug Inn' that features many of the musicians playin that night and was recorded for a future DVD release.
All the bands played to an exceptionally high standard and included the followin
Colonel Bagshot, Rocking Horse, Splinter, Joker, Last Train, Gaz Gaskell's Mambo, Pepperbox and Nutz.
29th & Dearborn was represented by an acoustic electric band consistin of three original members AL Peters - acoustic guitar and vocals, Kenny Roberts - lead guitar and vocals and Richie Winn - drums
passionately accompanied by Brian Preston - acoustic bass and Leigh Marles - lead and slide guitar.
Richie who originally played guitar with 29th & Dearborn flew in from Germany to do the gig without any prior rehearsal on an instrument that he later admitted he 'hadn't played for six years or more!'
On the night 29th & Dearborn became 'Dearborn Blues' and played two original numbers - 'Revolutionary Brother' and
'I Just Wanna Play (In a Democratic UK) with a dedication to New Orleans and those devastated by Hurricane Katrina in the shape of 'Down Home Girl'. The band was enthusiastically received by the capacity audience most of whom would not be familiar with the original material with it's overtly political messages.
It was good to meet up with so many people after 30 years and to everyone's amazement people still recognise each other after the ravages of 'sex, drugs and rock and roll' had taken their toll.
'Plug Inn' Awards were handed out to various members of the musical fraternity by the effervescent Tommy Mac and the sharply dressed Tony Bolland. The relief at the success of this event after all the hard work is clearly seen in the photo below Dearborn of the man himself. The night proved so successful that other similar events are goin to be held in the very near future so 'Watch this space!' Although Dearborn did not achieve an award they received so many favourable comments from such a varied age group - 'It's great to hear those 'down home blues', 'excellent band', 'the revolution hasn't stopped' 'inspirational' and so on.
A special thanks must go to all concerned especially the sound engineers Chris, Otto and Alan Lynch for managin the continual change-overs with such professional ease.
Dearborn Blues @ Cavern

Kenny Roberts, Brian Preston, Richie Winn,

AL Peters & Leigh Marles

Thanks to Sol for takin the photos
Johnny Hodge tellin it like it is

(Joker) ex 'Almost' Blues

Tony Bolland proudly displays his book

backstage @ The Cavern

With a little help from Brian Farrell

(Colonel Bagshot)
Ozzie Yue accepts 'Plugg Inn' Award

on behalf of Supercharge

Gaz Gazkell accepts Award for best

Saxophone player in the 1970's from Tony

Keith Mulholland (Nutz) gets his Award

and priorities right.
More Info re Tony Bolland & The Forgotten Years
---
Willard & the Poor Boys
"Acoustic Mersey Delta Blues"
Brian Preston (bass), AL Peterson (vocals, guitar & harmonica)

Gaz Gaskell (lead guitar, quatro & harmonica)

AL, Gaz & Dylan's

at Porter's Ale House, Warrington
The 'Bohemian' Bluesman often strolls into many 'Open Mike Nights' unannounced to spread the faith
in 'Keepin' Music Live' without the aid of backing tracks.
Check out The Egg, Newington St, and later that night
The Metro, Victoria St, Liverpool on the first Monday of the month
or the Alun Parry Acoustic Singer/Songwriter Sessions at Parr Street.
AL Willard Peterson played his unique style of 'Folk Blues'

Acoustic Legends Night (Still Giggin)

Friday 2nd November 2007

The Kerryman

Digbeth High Street

Birmingham

Supporting Nick Barrett & Peter Gee from Pendragon

Cissy Stone & Tony McPhee

AL blew some harp with Tony Mc Phee and enjoyed the performances of all at

The Kerryman especially Nick, Peter, Tony & Cissy..

Very impressed with the hospitality of the Fishwick family especially Mum & Dad

who kindly introduced me to the taste of 'Stafford Oatcakes'.

A special thanks must go to Neil Fishwick of Still Giggin.
AL performing

'Plug Inn 2'

CARLING ACADEMY LIVERPOOL

Friday 23rd November 2007

Photo by 'Viv' Wright

'I'm lookin forward to bein involved in the

ALL DAY PLUG INN 3 in 2008'

"One has to admire Tony for his relentless work in

makin sure that Liverpool of the 1970's

is not forgotten"

Check his book out 'The Forgotten Years'

Receiving an award from Tony Bolland for services rendered to the Liverpool Music Scene in the 1970's
---
| | |
| --- | --- |
| Fort Perch Rock New Brighton | BLUE C Christine & Raphael |
AL was the special guest of
BLUE C at this new Blues Venue
Fort Perch Rock New Brighton Wallasey Merseyside
last Sunday 13th July 2008
This event hosted by Raphael Callaghan (vcl, slide gtr & harmonica) & Christine Purnell (bass gtr)
of BLUE C was well and enthusiastically attended and
included a
Talkin' Blues Session with AL in conversation with Raphael
There was a Rhythm & Blues Disco, CD's won and sold along with a display of blues memorabilia.
Due to the well deserved reception of the superb performance of Raphael & Christine, and the enthusiasm of the proprietors
at this wonderful little venue I will be donatin a collage of a prestigious gig held at the Plaza Theatre Birkenhead in 1962
that had Bo Diddley, Little Richard & the Everly Brothers headlinin with the Rolling Stones at the bottom of the bill with
their new single 'Come On'.
---
Celebrate the first anniversary of 'Blues on the Rock' at Fort Perch Rock on Sunday 12th July 2009 when
AL Willard Peterson will be the special guest of BLUE C and promotin his new CD Single 'Greenfish Cafe Blues'.
The Fort has a Cafe/Bottle Bar and is open 1pm - 4pm £4 Adm
---
AL supported Dean Friedman and Searchin at the Fort on Saturday the 25th July 2009
An excellent night was had by all concerned.
for venue and gig info contact 0151 709 5484 or groovin.records@virgin.net
---
A4 Blues on the Rock Poster

featurin all the artists who have appeared

over the past 18 months

Promoters Christine & Raphael amongst their Blues Memorabilia

IN COMMEMORATION

Of the Last Blues on the Rock Gig in this series

on the 13th December 2009 with Blue 'C'

an A4 glossy poster is available from

Groovin Records PO Box 39

Hoylake Wirral CH47 2HP

Please make cheques of £2.50 + £1 (p&p) payable to 'AL Peters'
---
ARTE TV at Fort Perch Rock 9th February 2010

A Franco/German TV Company arrived at Fort Perch Rock

to film AL as part of the 'British Blues Explosion' 1955 -1965

produced by Phil Priestley (left) who has previously worked on productions about the Stax label and James Brown.

This was a 'thrillin an chillin' experience due to the

extremely cold weather. Besides featurin personal memorabilia from that period AL played 'Midnight Special'

and 'Key to the Highway' to help illustrate the progression

from the Blues to Mersey Beat.

A special thanks must go to Bill Harry writer and editor of 'Mersey Beat' and 'Bigger than the Beatles' for the recommendation and Dougie Darroch for the use of the Fort.

This production is due out in May
---
AL (The Photographer)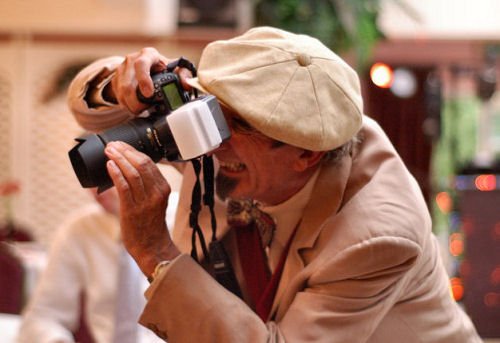 Photo by Dan Young 29/05/10
Fort Perch Rock Gigs Summer 2010
Just two of the many excellent gigs at Fort Perch Rock promoted by Dougie and Sasha
Gary Christian of The Christians ( My Ray Charles shot)

Also did the support along with Jack Roberts

Susan Hedges with Paul Young

Played harmonica with Susan on this gig
---
AL 'The Bluesman' at The Raven Inn Llanarmon-yn-lal 21/08/10
AL at the Raven photo by Comrade Lowe

The Raven Inn, Llanarmon Yn Lal, Nr Mold, North Wales -

a great little pub that the local community took over a year ago

to save it from closing down.

You can find more details of what is happening over the weekend at www.raveninn.co.uk.

When the

historic Raven Inn will celebrate a successful year in business on Saturday August 28th. The Pub is a traditional community-orientated and community run free house situated in the heart of the picturesque North Wales village of Llanarmon-yn-Ial.

The pub had been closed and on the market for several months. Threatened with long term closure the villagers approached the current landlord and proposed the community reopen and

run the pub.

Llanarmon-yn-Ial is a very picturesque welsh village situated in the Clwydian hills which is a designated "area of outstanding beauty". The village is one of few remaining with a shop, post office,

school and pub.

The pub is now run as a community venture, and has initially be staffed and run by keen volunteers from the village. Volunteers from the community have worked tirelessly to maintain its success.

The Raven is a limited company by guarantee which means that all profits are put back into local community projects.

So why not come along and see us at the "Annual Celebration" August Bank Holiday Week End and enjoy a true

village pub atmosphere.
---
AL's 'Photographics' at The International Guitar Festival 2009
Featurin James Burton, Galina Vale, Michelle Shocked
---
James Burton at the Floral Pavilion 20/11/10
Chris Clayton (Elvis), The Passionettes, James Burton.

The JB Band, Mike Byrne, Dave Dover, James

Sue Hedges, Terry McClusky, Mike White,

AL Peters

James and Mike perform

Over the Rainbow

Brian Jones, Frankie Conner & Mike Byrne

James rehearsin at Fort Perch Rock

Owen, Mike Byrne (Jerry Lee) & James Burton
One of the Highlights of this year for me was playing alongside a guitar great, the one and only James Burton whose pedigree is second to non having played with Elvis Presley (9 years), Ricky Nelson, Roy Orbison, Eddie Cochran, Gene Vincent, Graham Parsons, John Denver, Emmylou Harris, Kris Kristofferson but to name a few.
A true southern gent who hails from Louisiana and has made Fort Perch Rock his second home thanks to Dougie and Sasha.
---
LISTEN OUT FOR
A Celebration on BBC Radio Merseyside 95.8 FM celebrating the life and works of Adrian Henri presented by
Roger Phillips and curated by Catherine Marcangeli will be broadcast over the Xmas period.
The broadcast will include performance, discussion, anecdotes and memories.
---
On Tour with James Burton and Albert Lee July 2012
I had the great privilege of working with two great guitar legends and watching them trade guitar licks was a joy to behold especially after Albert proudly announced that James was his inspiration and guitar hero.
James Burton, AL Peters , Albert Lee

at Fort Perch Rock

The Collection

Gary (bass), Golly (guitar), Paul (vocals),

Susan (vocals, keyboards), Pip (drums).

The Girls, Louise and Dionne (backing vocals) with Susan Hedges and AL
---
LAZY LESTER at the PHILHARMONIC LIVERPOOL 27/07/12
I was with my friend Blind AL and friends waiting for the second spot after an enthralling session from the Louisiana Bluesman when I noticed a chair and microphone placed to the right of Lester then an announcement that a local harmonica player was in the house and had been invited to accompany him, I looked around to see who that was and to my surprise people shouted out my name! After two numbers I asked him should I go he replied "You stay right there boy".
I did just that and played the second set with him - what a joy!
Afterwards Blind AL and Spencer Leigh complemented me on my sensitive contribution.
Lazy 'I'm a Lover not a Fighter' Lester

The Louisiana Bluesman

AL with Lester after the gig

'Blues Brothers'
Back to Groovin' Records Home Page
---
---