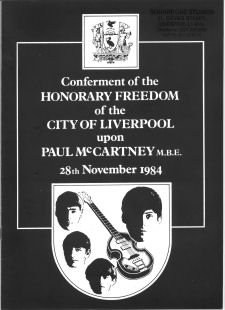 Freedom of the City Programme
Printed by the Elliot Brothers & Yoeman Ltd, Speke, Liverpool
Signed programme
Photo Linda McCartney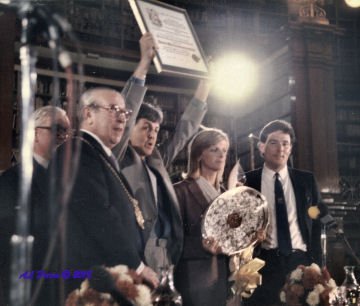 Photo AL Peters
Council Leader J Hamilton, Council Chairman Hugh Dalton, Paul McCartney, Linda McCartney & Councillor Derek Hatton
When Paul arrived at Liverpool Town Hall
He looked at me taking photos and said
'now there's a face from the past'.
The past will have been the occasions I used to jive with friends at the front of the stage when the Beatles were playing at Hambleton Hall
and the Cavern.
Also across the the canteen at Liverpool Art College where he often met up with John Lennon..
On one occassion I remember during a fight that broke out at Hambleton Hall between two rival gangs of Teddy Boys the Beatles had stopped playing and their heads popped from behind the stage curtains and asked me if the fight had stopped yet. No I replied as bottles were hurled towards the stage area that I was trying to hide behind.